The Kia Telluride turned a lot of heads in its 2020 maiden voyage, with a lot of the features you want in an SUV, along with some features you didn't know you needed. Now, with a very modest refresh in 2021, the new Telluride hopes to cash in on that newfound fame.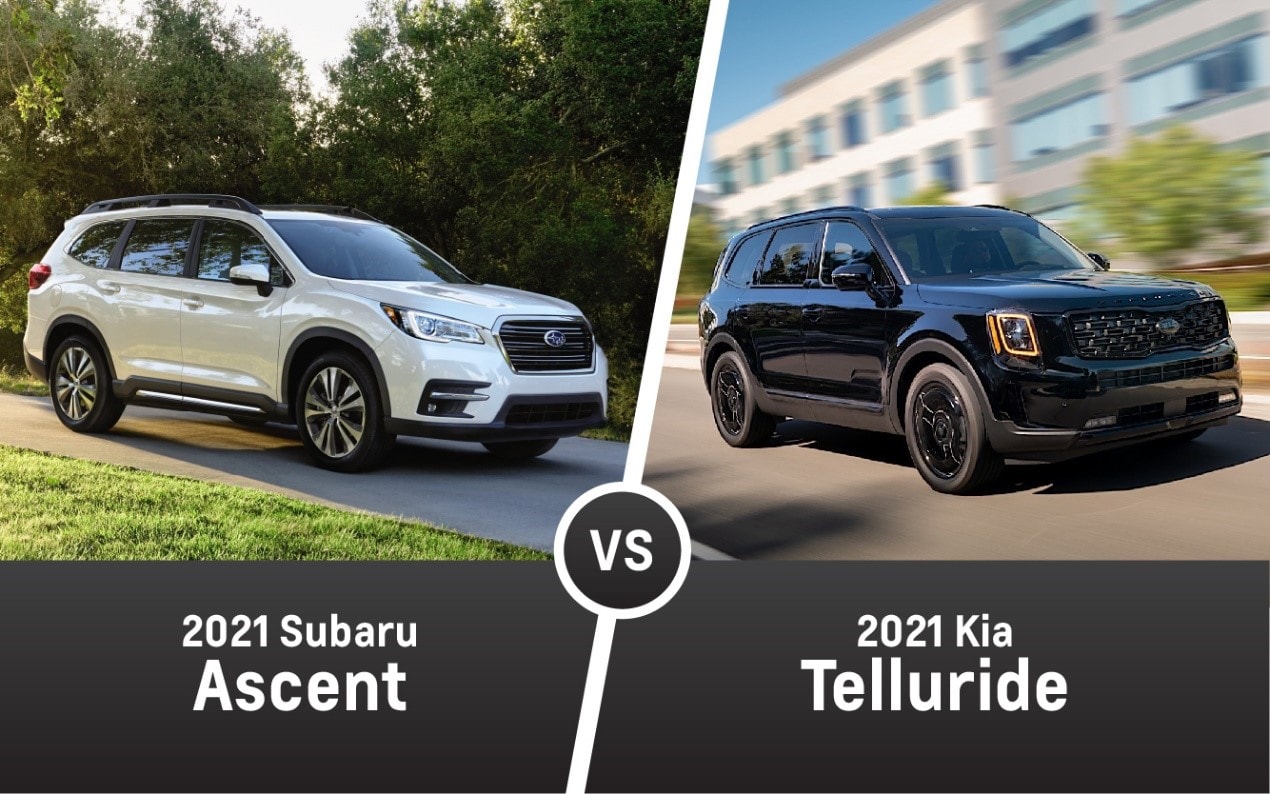 "Not so fast," says the 2021 Subaru Ascent. Harnessing the power of many similar features found in the Kia, plus a few exclusive ones, the new Subaru SUV is challenging the status quo. So, if you're looking for a new 8-passenger SUV for your family road trips, read on to see why the new Subaru Ascent might just be a better buy over the popular Kia Telluride.
Ascent Wins the AWD Fuel Economy Battle
We'll keep this short: The Subaru Ascent AWD SUV is more conservative with fuel than the Kia Telluride. The base Subaru Ascent returns 21 city/27 hwy mpg, and the top-of-the-line Ascent Touring gets 20 city/26 hwy mpg.
The 2021 Kia Telluride isn't great on gas. For its base LX trim, EPA-estimated fuel economy comes in at 19 city/24 hwy mpg (AWD) and 20 city/26 hwy (FWD).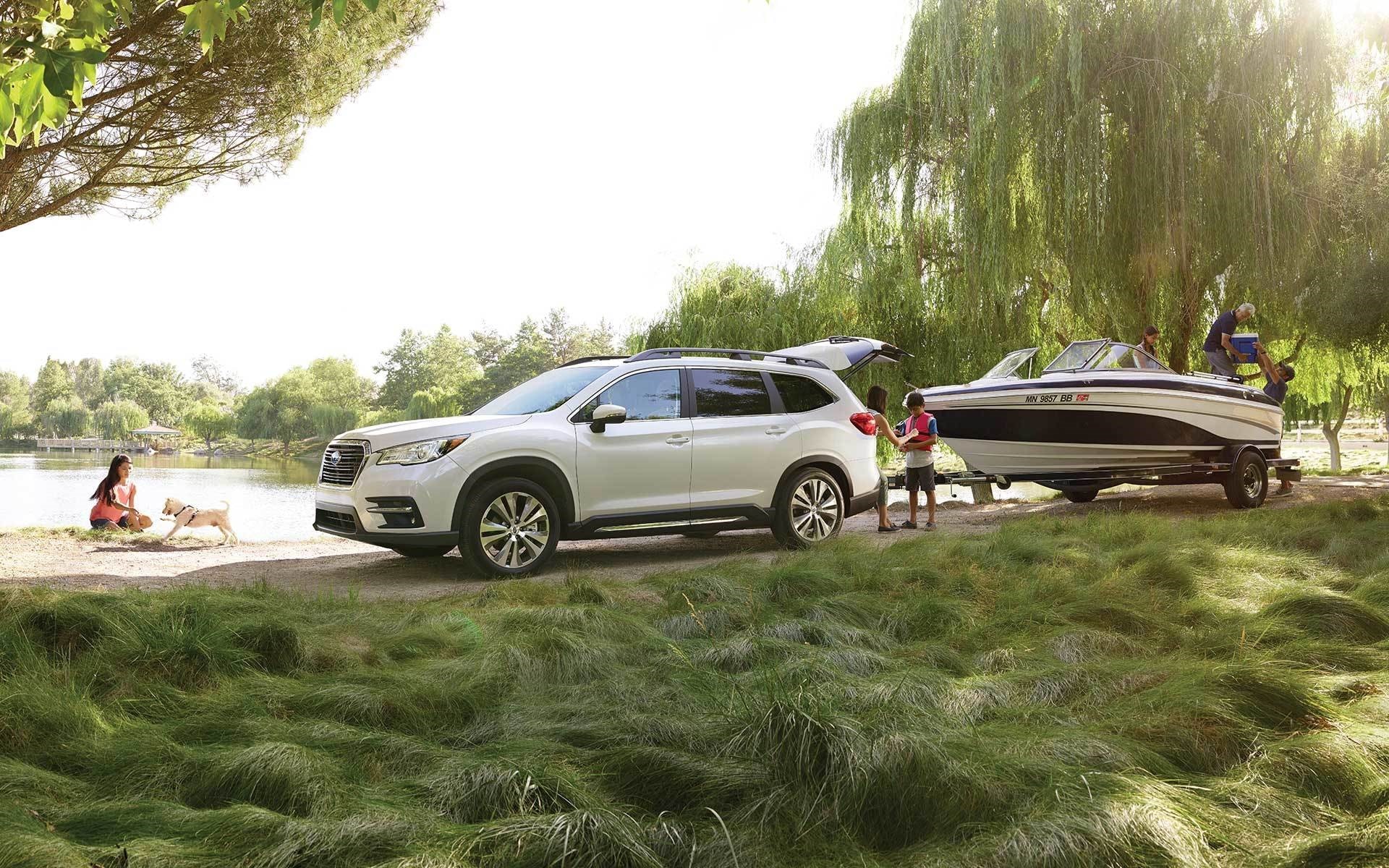 Kia Can't Match Subaru's Off-Roading Prowess
Thanks to Subaru's ubiquitous AWD system, the Ascent is suited for everything, from long road trips through the Midwest to daily commutes on the Lawrence area's infamous gravely backroads. And, being a Subaru, Ascent's got skid plates and 8.7 inches of ground clearance to play around with, so it's never afraid to tackle larger obstacles that may intimidate rivals like the Telluride.
Put into X-MODE, the new Subaru Ascent utilizes its 8.7 inches of ground clearance with pitch-perfect effect, maximizing traction on slick roads and rocky terrain. X-MODE even functions alongside Hill Descent Control for added confidence and stability on steep hills.
The Kia Telluride only offers 8 inches of ground clearance and comes standard with FWD, though it does have an AWD mode that can be activated. You also don't get a system that's comparable to X-MODE in the Kia, ultimately making the Telluride an 8-seater that's only capable of hauling around people and the occasional boat or trailer. Is it good enough for most families? Sure. But when you want to explore uncharted territory, the Kia SUV can't compete with the 2021 Ascent.
The Subaru Ascent Offers More Convenient Features
Roof Rails
Standard on every Subaru Ascent is a pair of raised roof rails. In fact, Ascent is the only full-size SUV in its class to include roof rails as a standard, entry-level feature. Move up the Ascent roster and you'll find an extensive lineup of other available Thule® racks, rails, and rooftop containers.
The base Telluride LX doesn't come with roof rails.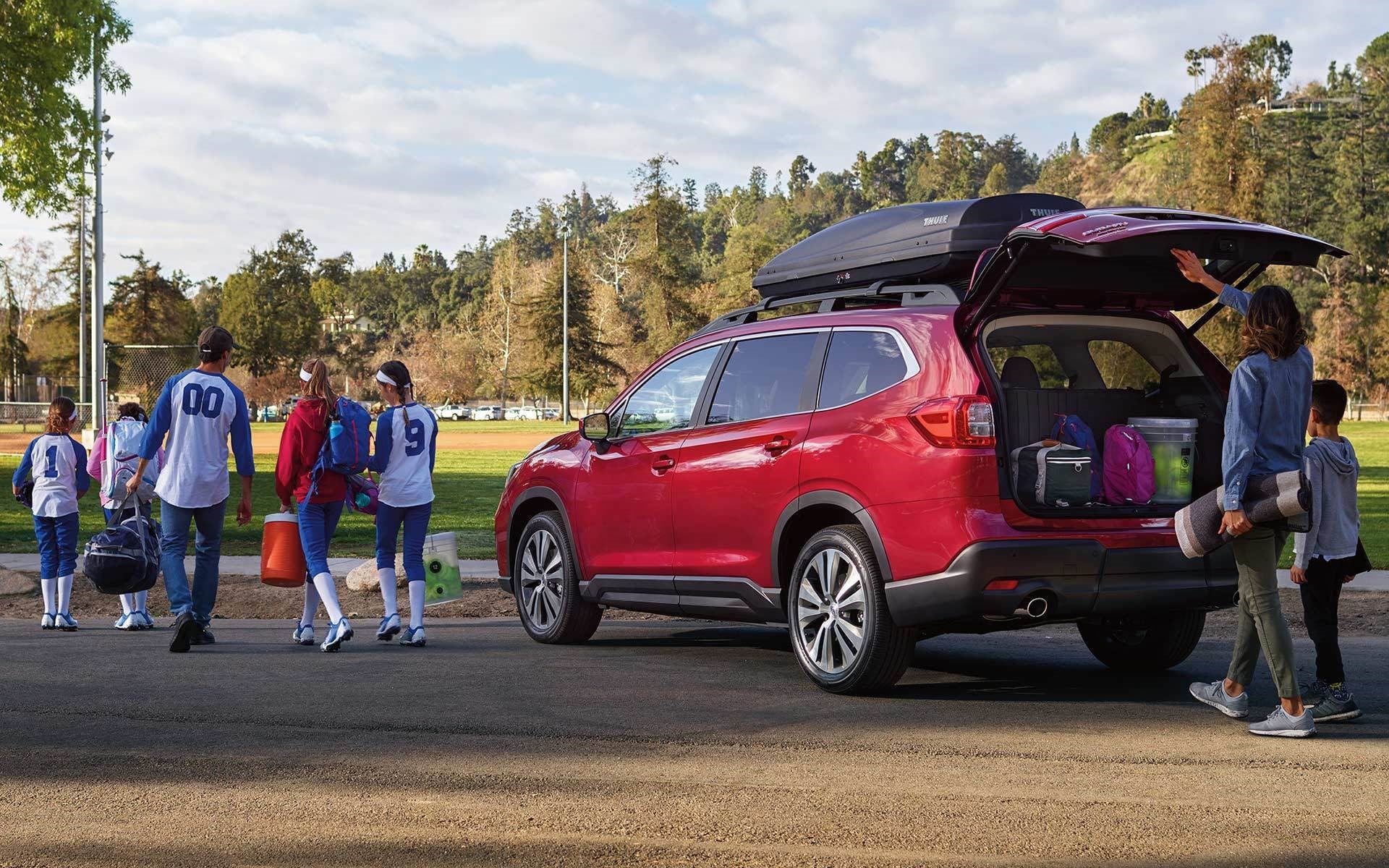 Smart Liftgate
Another standard feature on the Ascent that's not found on the Telluride: Power liftgate. Ascent's power rear gate includes automatic close and lock, as well as a very helpful height-memory function. With that feature, you can adjust the cargo floor and opening height to accommodate your own physical capabilities.
To get a similar feature in the Kia, you'd need to upgrade to the pricier Telluride EX model – a $5,000 upgrade over the base Ascent.
Wi-Fi Connectivity
While both SUVs come with Apple CarPlay and Android Auto compatibility, the Kia Telluride lacks any form of Wi-Fi hotspot. (It's almost as if the Kia SUV was made in 2011, not 2021.)
The 2021 Ascent Premium comes standard with a 4G LTE Wi-Fi hotspot courtesy of AT&T. So, even when you're off the grid, you've got on-the-grid connectivity at your fingertips.
Sound System
Audiophiles won't find paradise in the Kia Telluride, which features an optional 10-speaker Harmon Kardon® audio system with Clari-Fi™. Inside Telluride's cabin, tunes sound fine, though there's a certain tinny quality to every bassline that comes through the 8" subwoofer.
Comparing the Telluride sound system to Subaru's, it's clear why the Ascent is an eardrum's BFF. Starting with the 2021 Ascent Limited model, you have access to an available Harman Kardon Quantum Surround Sound System that includes a 792W GreenEdge® amplifier and 14 exceptionally crafted speakers.
Cupholders
Want another 11 reasons why the Ascent beats Telluride in the convenience department? Just look toward the cup holders.
With the Kia, you get a total of 4 cupholders throughout the cabin (two up front and two in the middle row) and 4 bottle holders in the front and rear doors.
The new Subaru Ascent includes a total of 19 cup and bottle holders in the cabin. Hydrate up, America.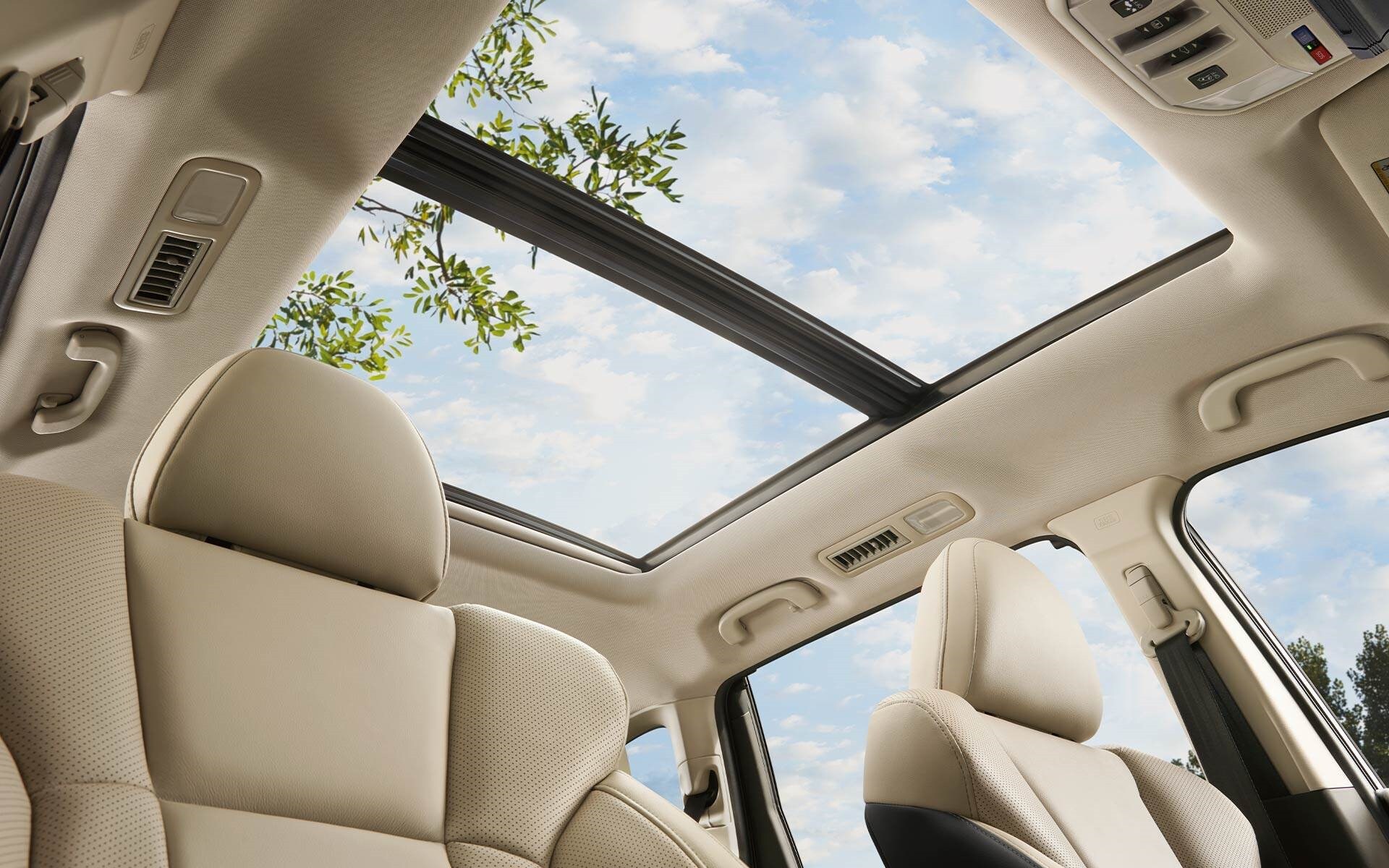 Panoramic Moonroof
Kia has a Dual Sunroof, but it's only standard on the range-topping Telluride SX model. All other models are stuck with either no sunroof or the brand's basic (i.e. "boring") power sunroof.
Get rid of the blah with Subaru Ascent's Panoramic Moonroof. It stretches from front seats to back row, offering 54 inches of power-tilting, galaxy-observing glass. This feature is available on the Premium and Limited Subaru Ascent models, and standard on the Touring.
Driver-Assist & Safety
Carrying over IIHS Top Safety Picks into 2021, both the new Ascent and Telluride are about as safe as full-size SUVs get. They offer a lot of the same standard safety features – this includes, but isn't limited to, automatic emergency braking, forward collision alert, lane departure warning, and adaptive cruise control – though Subaru Ascent has a few exclusive pieces of tech.
For instance, all Subaru Ascent SUVs come with standard High Beam Assist (HBA), which automatically switches headlights between high and low settings when other vehicles are detected. HBA is standard on the $42,000 Telluride SX, but not on any other trim.
Additionally, Subaru offers a special Front-View Monitor feature that allows drivers to see any obstacles that are directly in front and underneath the front bumper. This system displays a 180-degree view right on the center stack screen, so you can park with confidence. This is certainly a step up from Kia's Parking Distance Warning system, which only uses audible alerts.
The Verdict
All things considered, the Kia Telluride is certainly a good SUV. However, if you live beyond the driveway, office and grocery store parking lot, the 2021 Subaru Ascent may be the best large SUV for you and the fam.
Visit our Lawrence Subaru dealership, located at 2233 W 29th Terrace, to discover the new Ascent model and take a contactless test drive. Contact our McCarthy Subaru sales team at 855-894-4306 to book an appointment, ask about our current Subaru SUV deals, or start your auto financing application.