The 2022 Subaru Love Promise Community Commitment Award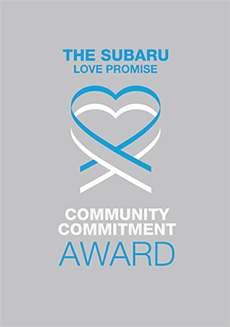 We've been nationally recognized for our dedication to our community and the Subaru Love Promise.
We're honored to receive the 2022 Subaru Love Promise Community Commitment Award. This award nationally recognizes Subaru retailers who are making the world a better place while demonstrating an outstanding commitment to supporting passions and causes in local communities. These efforts are focused in important areas such as the environment, community, health, education, and pets.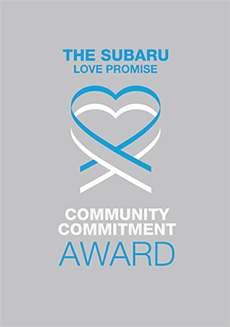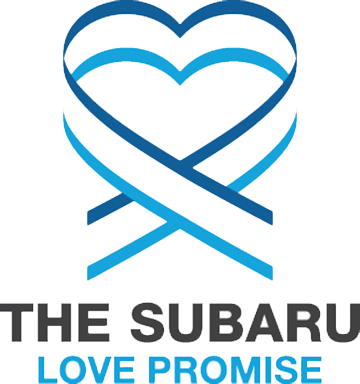 What is the Subaru Love Promise?
Subaru and our retailers believe in making the world a better place and the Subaru Love Promise is our vision of respecting all people. This is our commitment to show love and respect to our customers and to work to make a positive impact in the world.
How is McCarthy Subaru of Lawrence dedicated locally to the Love Promise?
We believe in being a positive force in something bigger. And it all starts right here in our community. Not just by our donations, but by our actions. That's why we stay true to our Love Promise Community Commitment by partnering with a wide variety of community nonprofits and charities. Every year, we join hands with our owners in the "Share the Love" event, giving back to our community-a community that's given so much to us. So, every day, we strive to ensure our love is felt not just by our customers, but by all in our community. We do this because we feel it is the right thing to do. We are proud to participate in the Love Promise Community Commitment. We're grateful, not only to be a part of our community, but to serve and support the causes and passions that are closest to our hearts, right here in our neighborhood. All of the organizations we support have one thing in common: the unwavering dedication to improve the world and the lives of ­its people.
Kansas Educator of the Year
Love Promise Stories from McCarthy Subaru of Lawrence
Subaru and McCarthy Subaru of Lawrence believe in making a positive impact on the communities in which we live and work. We uphold that belief through our Love Promise Community Commitment. Every month, we select inspiring stories from customers and partners from around our area who strive to support our collective commitment and feature them here
presenting sponsor of Taste of Lawrence - Tiffany H
McCarthy Subaru of Lawrence was very happy to be a returning presenting sponsor of Taste of Lawrence - from the Lawrence Chamber of Commerce. The event was not held in the same manner in 2020, so it was great to get back together in 2021. The event was well attended and really recognizes the Chamber of Commerce's strong and effective presence in Lawrence, but equally important it celebrates all the great people, their businesses and all the awesome food that Lawrence has to offer. This annual event is another great reason that Lawrence is a great place to live and do business and McCarthy Subaru of Lawrence could not be happier to continue to support this event.
---
presenting sponsor of the "Lights On" Talent Show - Megan H
McCarthy Subaru of Lawrence was the presenting sponsor of the 2021 "Lights On" Talent Show, from the Boys & Girls Club of Lawrence. Last year we were planned to be the presenting sponsor, but it was cancelled, due to COVID. We remained committed to the Boys & Girls Club of Lawrence and still offered our same financial support, but were very excited that this year the competition went as planned. The event went great and it was wonderful to see the kids have fun, compete and learn to take challenges and learn new things. This is one of many reasons we support the Boys & Girls Club of Lawrence, as they are committed in helping kids challenge themselves to be all they can be.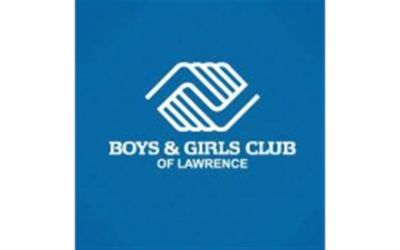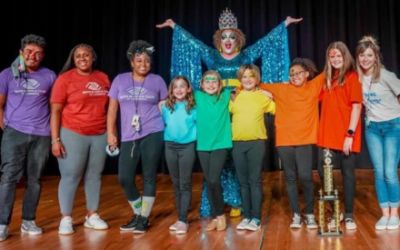 ---
Lawrence Educator of the Year Program - Elilabeth K
For the second year McCarthy Subaru of Lawrence has supported the Educator of the Year Program. We changed the program from the one the previous retailer supported to shift from offering the winner a one year lease, to providing a $2,000 cash donation for the classroom for the winning Educator. Then, we provide the winning Educator the opportunity to select a non-for-profit in Lawrence that we would then make a $3,000 donation to the charity they select. The program has worked well in recognizing monthly winners / candidates and recognizing an annual winner. The charities that the winners select are very excited, as is the community as a whole, as we want to support local charities that help the community of Lawrence thrive.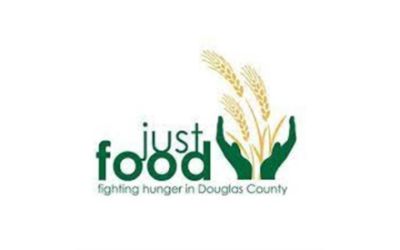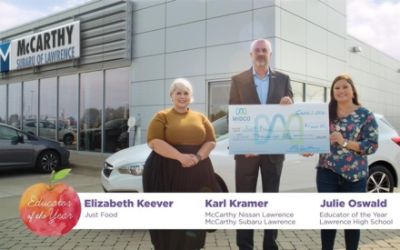 ---
Third Time's the Charm for Charming Caliber - Elina A
Caliber, a one year old Australian Cattle Dog mix, was brought in as a stray by Animal Control, found running in a high-traffic area. Sadly, no owner ever came forward for Caliber. Caliber waited for over 6 six weeks for a family of his own. During that time he was adopted and returned twice, never spending more than a few days in each adoptive home, all through no fault of his own as his puppy energy was more than the adopters were prepared for. During the beginning of the #SubaruLovesPets Adoption Special Raychele and her husband came to the shelter, saw Caliber, and instantly took a liking to Caliber. They brought their resident dog to see how the two would get along, but unfortunately because of Caliber's shelter stress their dog-to-dog meet wasn't the best. During that particular visit, they ended up adopting a young puppy named Cookie. Although very happy about their new family member, Raychele said she couldn't get Caliber off her mind. Over the next few weeks, as Raychele continued to think about Caliber, he was able to spend some time in a foster home and the staff at the Lawrence Humane Society were able to understand his needs a bit better and see Caliber's true colors shine through. As it turned out, Caliber was extremely dog friendly and just needed a canine pal to show him the ropes! After many chats with her husband, Raychele came in again right at the tail end of the #SubaruLovesPets Adoption Special, ready to add Caliber to the family. Caliber is now happily residing with his two dog siblings and his human mom and dad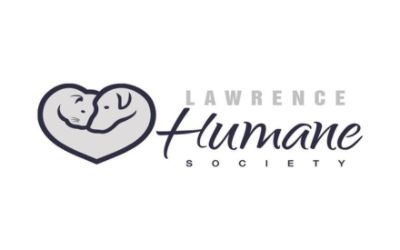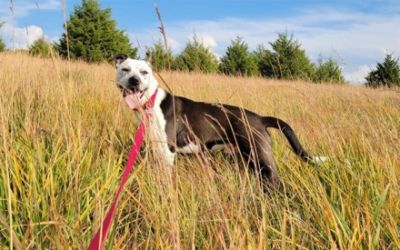 ---
Boys & Girls Club of Lawrence Lights On - Larry S
The Boys & Girls Clubs are a core partner to the philanthropic support for McCarthy Auto Group as a whole, but Megan Hill and the entire Team of the Club in Lawrence have done an outstanding job evolving through COVID19, in support of the kids that they take care of daily. Earlier in the year, on January 29th, we served as a judge for their Youth of the Year Program. We had plans to be the title sponsor of their "Lights On – Talent Show". Due to COVID the event had to be cancelled, but the financial support was still provided to them, as they have again taken great steps to care for kids every day. This support has been educational support, mental health support and other programming and they very much appreciated our continued support to them, even when the Talent Show was cancelled.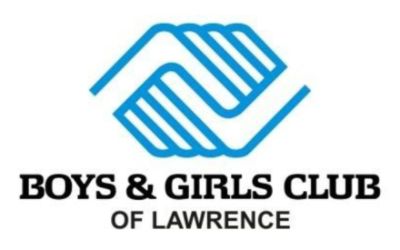 ---
2020 Educator of the Year - Larry S
The intent of this program was designed to recognize on a monthly basis Educators in Lawrence and lead up to the Educator of the Year announcement of a single recipient. Then the recipient would receive a 3- year lease of a new Subaru. The core program stayed intact, even though COVID affected the original intent, but recognizing the needs of schools and Educators were evolving, we moved our support to a financial donation of $3,000.00 to the school of the Educator of the Year. Then, in the pay if forward thought, we allowed the Educator of the Year recipient to name a local charity of their choice to receive a donation, in the sum of $2,000.00. This donation was made on behalf of McCarthy Subaru of Lawrence, by the Educator of the Year. The Educator of the Year was Scott Petry and he identified his donation of the $2,000.00 to go to Tenants to Homeowners. This organizations assists people in Lawrence with subsidized housing and works to mentor and support them as they transition to a home or apartment for their very own. The first year of the program went very well and we are continuing it for 2021.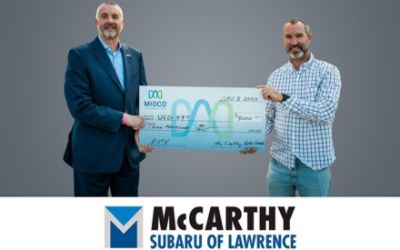 ---
Lawrence Humane Society Says Thank You - Angela W
When Echo first came into Lawrence Humane Society's doors, we realized she was a total sweetheart. Whether she was playing with her toys or snuggling up to you at any chance she got, she always found a way to brighten someone's day. Any time Echo was spending time with her doggy or human friends was a good day, but October 2nd, 2020 was an especially good day for her. On October 2nd, got to go home to her newest human friends! Thanks to the generosity of McCarthy Subaru, she also left an important legacy on our shelter. In honor of National Make a Dog's Day in October, McCarthy Subaru of Lawrence decided to generously donate $100 per adoption in honor of 31 "Underdog" adoptions. In total, that meant 31 dogs found loving homes and our shelter pets benefited from $3,100 worth of life-saving donation funds. Because Echo found her forever family in October, she was one of the 31 sweet dogs who were recognized by McCarthy Subaru with a $100 donation in her honor. The Underdogs promotion from Subaru has been extremely beautiful. It was a movement that spotlighted dogs with particular challenges and showed their many wonderful qualities in a gesture of love. This promotion really helped our dogs who are living with disabilities, chronic medical problems, breed discriminations, older age or any other circumstance that would significantly impact their lives with an adopted family. While not all dogs had the same situations, they all were deserving of loving families. The dealership showed how worthy of love these dogs are by donating in honor of their adoptions. Echo's example is a great one of how McCarthy Subaru was able to highlight her legacy by giving in honor of her and others like her. While in our shelter, Echo was diagnosed with a slight malformity in her right leg that caused her to favor it while walking. Our vets said Echo's condition did not seem to cause her pain, but it did affect her walking. According to our vets, she may have been born with this leg condition or it stemmed from an injury of some sort. Either way, Echo would have to have an x-ray on her leg in order to learn any more. Without radiographic capabilities in our shelter currently, this meant further answers for her would fall into her future owner's hands. Finding Echo a new home would mean she could get the love of a family and maybe get the x-ray on her leg. Echo consistently showed herself to be the bouncing, happy girl our shelter knew and loved and this legacy bestowed upon her by McCarthy Subaru was very well-deserved. For dogs like Echo, they are always worth the extra care and support. Thanks to the dealership, Echo found her new home in October. We hope she is happy, healthy and her new family is giving her all the TLC. McCarthy Subaru's act of love symbolized that these dogs are to be celebrated for who they are and how they light the lives of their families. Thank you, McCarthy Subaru!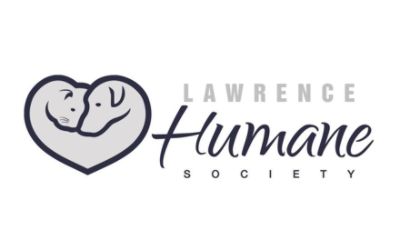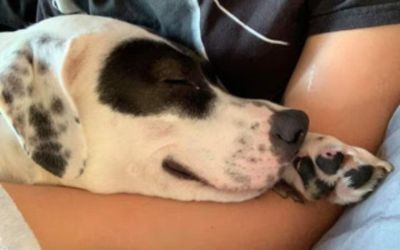 ---