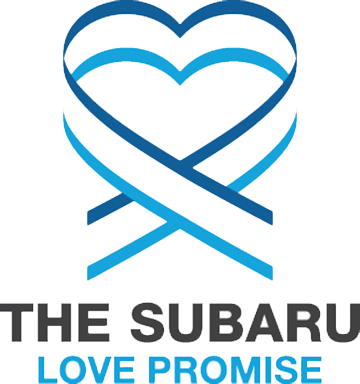 What is the Subaru Love Promise?
Subaru and our retailers believe in making the world a better place and the Subaru Love Promise is our vision of respecting all people. This is our commitment to show love and respect to our customers and to work to make a positive impact in the world.
How is McCarthy Subaru of Lawrence dedicated locally to the Love Promise?
We believe in being a positive force in something bigger. And it all starts right here in our community. Not just by our donations, but by our actions. That's why we stay true to our Love Promise Community Commitment by partnering with a wide variety of community nonprofits and charities. Every year, we join hands with our owners in the "Share the Love" event, giving back to our community-a community that's given so much to us. So, every day, we strive to ensure our love is felt not just by our customers, but by all in our community. We do this because we feel it is the right thing to do. We are proud to participate in the Love Promise Community Commitment. We're grateful, not only to be a part of our community, but to serve and support the causes and passions that are closest to our hearts, right here in our neighborhood. All of the organizations we support have one thing in common: the unwavering dedication to improve the world and the lives of ­its people.
Kansas Educator of the Year
Love Promise Stories from McCarthy Subaru of Lawrence
Subaru and McCarthy Subaru of Lawrence believe in making a positive impact on the communities in which we live and work. We uphold that belief through our Love Promise Community Commitment. Every month, we select inspiring stories from customers and partners from around our area who strive to support our collective commitment and feature them here
Lawrence Humane Society Says Thank You - Angela W
When Echo first came into Lawrence Humane Society's doors, we realized she was a total sweetheart. Whether she was playing with her toys or snuggling up to you at any chance she got, she always found a way to brighten someone's day. Any time Echo was spending time with her doggy or human friends was a good day, but October 2nd, 2020 was an especially good day for her. On October 2nd, got to go home to her newest human friends! Thanks to the generosity of McCarthy Subaru, she also left an important legacy on our shelter. In honor of National Make a Dog's Day in October, McCarthy Subaru of Lawrence decided to generously donate $100 per adoption in honor of 31 "Underdog" adoptions. In total, that meant 31 dogs found loving homes and our shelter pets benefited from $3,100 worth of life-saving donation funds. Because Echo found her forever family in October, she was one of the 31 sweet dogs who were recognized by McCarthy Subaru with a $100 donation in her honor. The Underdogs promotion from Subaru has been extremely beautiful. It was a movement that spotlighted dogs with particular challenges and showed their many wonderful qualities in a gesture of love. This promotion really helped our dogs who are living with disabilities, chronic medical problems, breed discriminations, older age or any other circumstance that would significantly impact their lives with an adopted family. While not all dogs had the same situations, they all were deserving of loving families. The dealership showed how worthy of love these dogs are by donating in honor of their adoptions. Echo's example is a great one of how McCarthy Subaru was able to highlight her legacy by giving in honor of her and others like her. While in our shelter, Echo was diagnosed with a slight malformity in her right leg that caused her to favor it while walking. Our vets said Echo's condition did not seem to cause her pain, but it did affect her walking. According to our vets, she may have been born with this leg condition or it stemmed from an injury of some sort. Either way, Echo would have to have an x-ray on her leg in order to learn any more. Without radiographic capabilities in our shelter currently, this meant further answers for her would fall into her future owner's hands. Finding Echo a new home would mean she could get the love of a family and maybe get the x-ray on her leg. Echo consistently showed herself to be the bouncing, happy girl our shelter knew and loved and this legacy bestowed upon her by McCarthy Subaru was very well-deserved. For dogs like Echo, they are always worth the extra care and support. Thanks to the dealership, Echo found her new home in October. We hope she is happy, healthy and her new family is giving her all the TLC. McCarthy Subaru's act of love symbolized that these dogs are to be celebrated for who they are and how they light the lives of their families. Thank you, McCarthy Subaru!
---